Certification Program ISO 9001:2015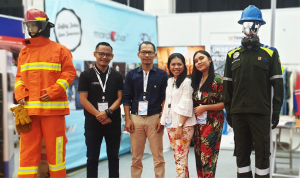 Partisipasi PT Mardohar Catur Tunggal Gaya dalam Pameran PJB Connect 2019 yang dilaksanakan pada tanggal 29-30 Oktober 2019 di Kantor Pusat PT Pembangkitan Jawa Bali Surabaya.
HOUR OF CODE
PT Mardohar Catur Tunggal Gaya bersama IPEKA Integrated Christian School mengadakan pelatihan coding bagi anak karyawan maupun anak warga sekitar yang saat ini sudah menduduki Sekolah Dasar, Kelas 2-6 guna mendukung dan mencerdaskan generasi penerus bangsa
Mardohar bersama 200 anak yatim dari Yayasan Yatim Mandiri Nonton Bareng "Cirque de Soul on Ice" di Kelapa Gading, 6 Juli 2019.
NEW FIRE RESISTANT FABRIC LAUNCHED
To offer more product ranges to its customers, Mardohar has launched a new breed of fire-resistant fabrics from Westex – Ultrasoft & Synergy ™ Pro powered by Teijin.
These two materials are expected to address the Indonesian market need for high-quality fire-resistant fabric.
Ultrasoft is a fire-retardant fabric, specially formulated cotton to protect its users from electric arcs, very suitable for workwear in the electrical industry.
Synergy ™ Pro is a fire-retardant fabric made from aramid, the best in FR class. It absorbs sweat, very comfortable to wear. It is suitable for the oil & gas industry, and other industry requiring the same fabric features.
Both materials are specially made for the tropical climate like Indonesia.